Shinagawa Shukuba Matsuri Festival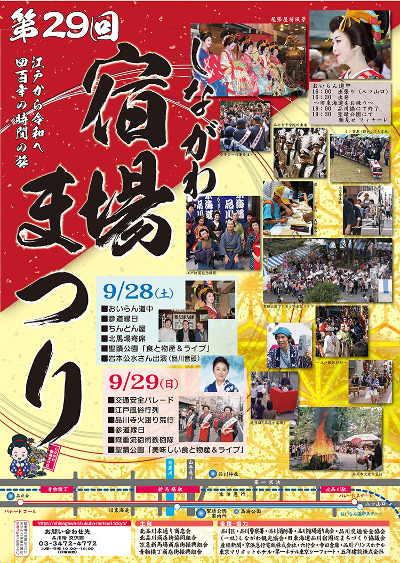 "Shukuba Matsuri" where you can enjoy a feeling like a time travel to the Edo period
"Shinagawa Shukuba Matsuri Festival" will be held for two days, September 28 and 29, 2019.
"Shinagawa-shuku" that is first post‐town from the Nihonbashi of the Fifty-Three Stations of the Tokaido. "Shinagawa Shukuba Matsuri Festival" began in 1990 to convey the culture of the historical "Shinagawa-shuku".
A variety of events that can feel the taste of Edo will be held in the range of about 2 kilometers from Kitashinagawa to Aomonoyokocho. In particular, you can enjoy the feeling like a time travel to the Edo period, such as "Oiran Dochu" (Procession of courtesans) where beautiful Geisha walk, and "Edo Fuzoku Gyoretsu" (Procession of Edo appearance) by people wearing various kimonos.
Details
Event Name
Shinagawa Shukuba Matsuri Festival
Venue
Kitashinagawa Station area – Aomonoyokocho Station area (Keikyu Main Line)
Dates
September 28, 2019 – September 29, 2019
Note
*In the case of stormy weather, cancellation or contents of implementation may be changed.
Open Hours
11:00 – 20:00
【Holding time of major event】
<Oiran Dochu> September 28 14:00 – 19:00 (Start: Around Kitashinagawa Station)
<Edo Fuzoku Gyoretsu> September 29 12:00 (Start: Around Kitashinagawa Station)
Admission
Free
Address
1-1-4 Kitashinagawa Shinagawa-ku, Tokyo