Tokyo yokocho alley guide / Best selection
In Tokyo that is evolving day by day, there are old-fashioned drinking streets "Yokocho alleys" that you can enjoy communication with various people. yokocho alleys were images of middle-aged men drinking, but recently young women and tourists from abroad are also enjoying the time in yokocho. There are many photogenic yokocho alleys with a nostalgic atmosphere.
We will introduce recommended yokocho alleys in Tokyo.
Shinjuku Golden Gai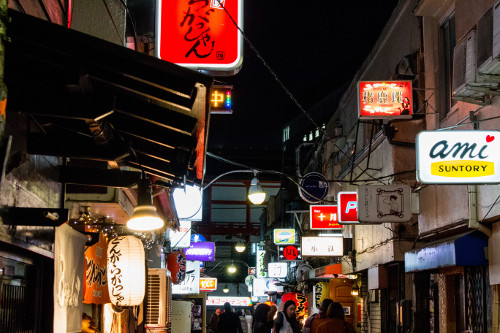 "Golden Gai" is a drinking town on the east side of Shinjuku Kabukicho. Shinjuku Market was born shortly after the war, and it became a drinking town like the present after a while. About 170 bars and eateries are lined up to crowd together in a confined space.
It became known as "Golden Gai" since the 1960s, it was not generally known place where many cultural people such as writers, poets, manga artists, film directors gathered, but gradually became widely known. Now, young people and overseas travelers who enjoy drinking are on the rise, and Golden Gai where new eateries and long-established bars coexist is the spot representing Tokyo.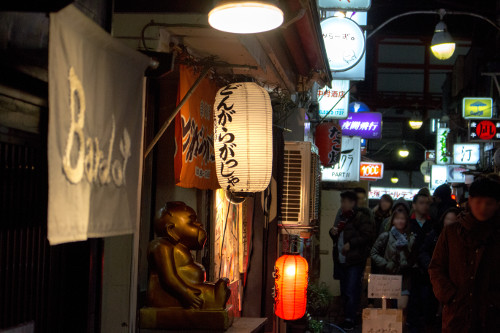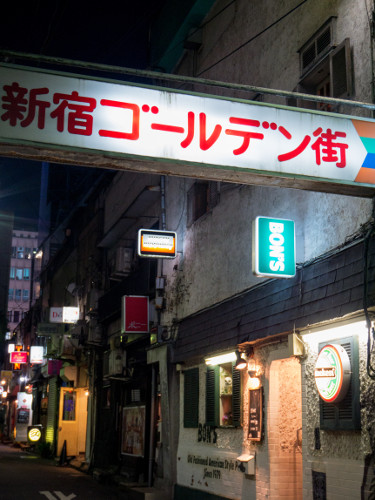 Shinjuku Golden Gai / 1 Kabukicho, Shinjuku-ku, Tokyo

Shinjuku Omoide Yokocho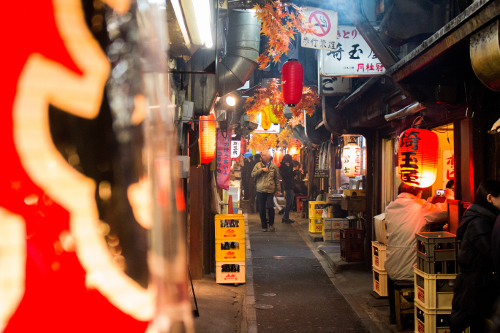 On the west side of Shinjuku Station between the railway tracks and the Ome Kaido, there is an area where townhouse-style bars are densely packed. The beginning of "Omoide Yokocho" is that there was a market by stalls after the war. Stalls began selling roasted giblets with beef and pork obtained, relatively easily, from allied forces.
There are many yakitori-ya restaurants and motsuyaki (roasted giblets) bars now because the traces of those days still remain.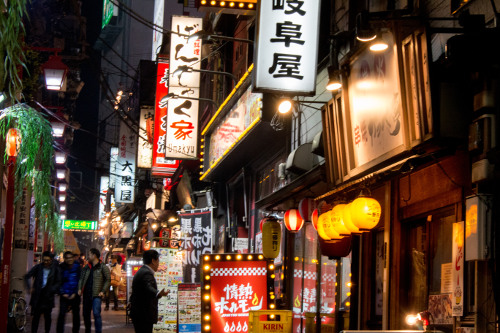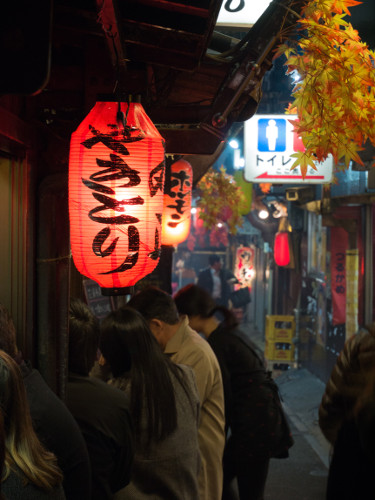 Shinjuku Omoide Yokocho / 1-2-11 Nishi Shinjuku, Shinjuku-ku, Tokyo

Shibuya Nonbei Yokocho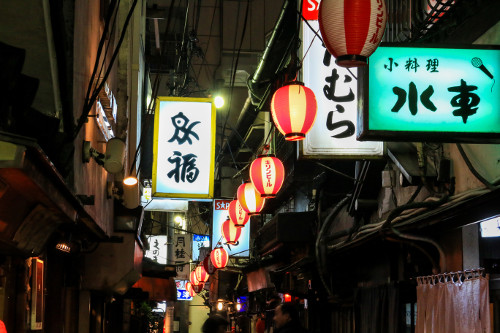 Near Shibuya station, "Nonbei Yokocho" (drunkards' alley) is located in a corner where many buildings line up. The eateries street formed by stalls gathered after the war, the cityscape at that time remains, there is a nostalgic atmosphere.
The size of each shop is only 6.5 – 10 square meters, and when several people enter, it becomes full. But you will feel comfortable in its narrowness. In addition to Yakitori and Oden, there are 36 unique shops such as bars and bistros on the "Nonbei Yokocho".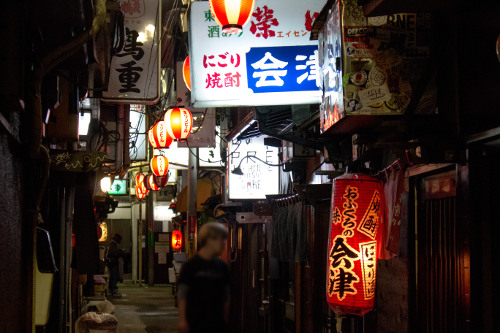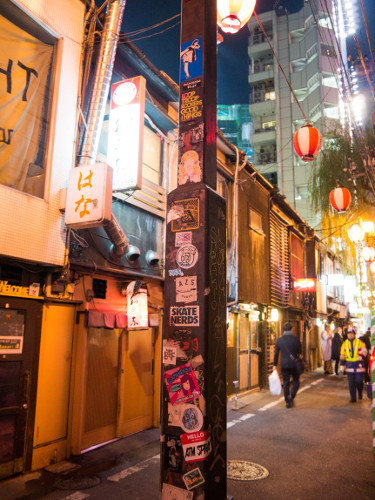 Shibuya Nonbei Yokocho / 1-25-10 Shibuya, Shibuya-ku, Tokyo

Ueno Ameyoko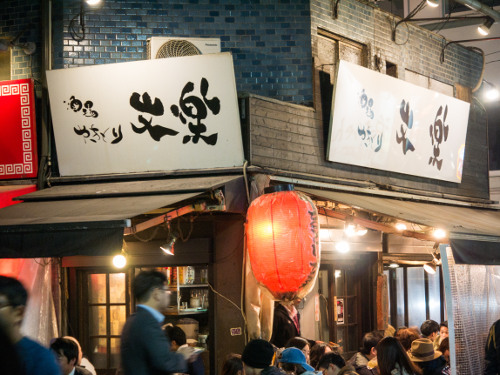 Ameyoko is a large-scale shopping district where more than 400 shops are lined up under railway viaduct of the Yamanote line between Ueno Station and Okachimachi Station and its west side.
Ameyoko, originally short for Ameya Yokocho (candy shop alley), is always lively with vendors calling out to customers. Ameyoko is a traditional shopping district where various products such as perishable foods, sweets, clothes, shoes, bags and cosmetics are sold. In addition, there are many izakaya which can enjoy drinking at cheap prices from daytime, and it is the area which wants to go bar-hopping.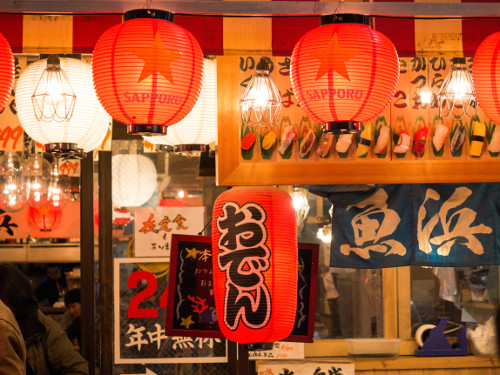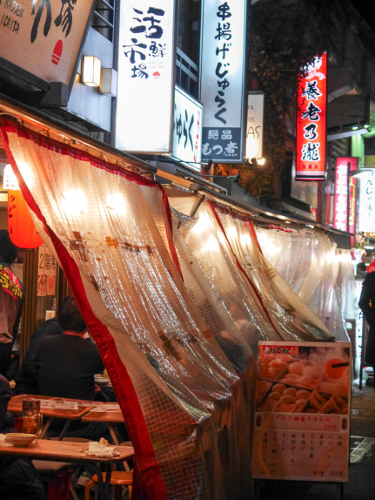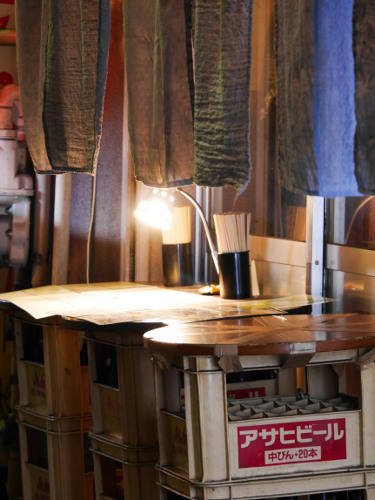 Ueno Ameyoko / 4-10 Ueno, Taito-ku, Tokyo

Asakusa Hoppy Dori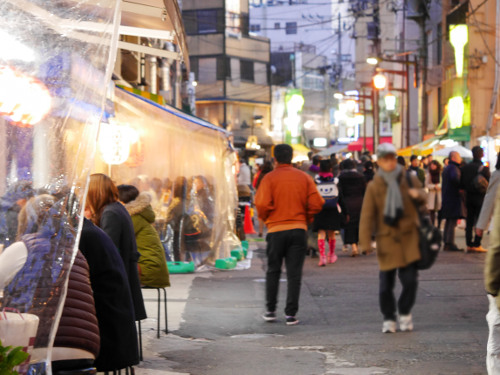 Located on the west of Sensoji Temple, "Hoppy Dori" is the representative drinking street in Asakusa. There are many taverns with a nostalgic atmosphere.
This street is also called "Nikomi Dori" because it has many eateries offering cheap and delicious "Nikomi" (stewed dishes) such as stewed beef tendon and simmered giblets. It is a popular spot where you can enjoy drinking easily from daytime while watching many tourists pass by.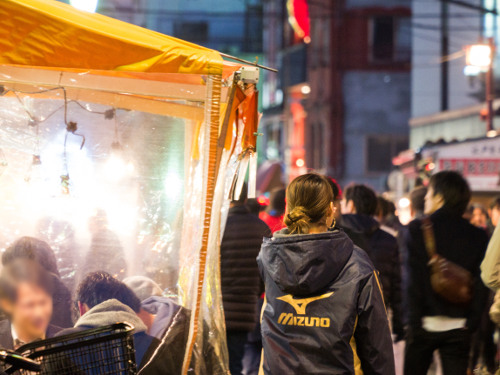 Asakusa Hoppy Dori / 2-4 Asakusa, Taito-ku, Tokyo

Harmonica Yokocho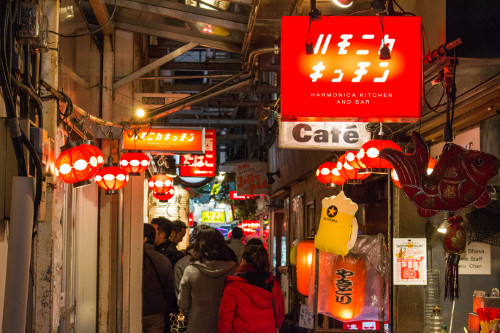 Approximately 100 shops are lined up in a narrow area in the yokocho alley near the north exit of Kichijoji station. It is named "Harmonica Yokocho" because it seems like harmonica that many narrow alleys intersect.
The market by stalls that appeared in front of the station in 1945 is the beginning of "Harmonica Yokocho". Besides bars and eateries, shops such as fish shop and flower shop line up in a complicated alleys area, and this area is crowded with shoppers and people who enjoy drinking.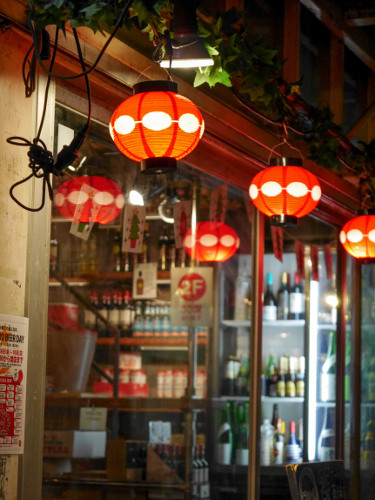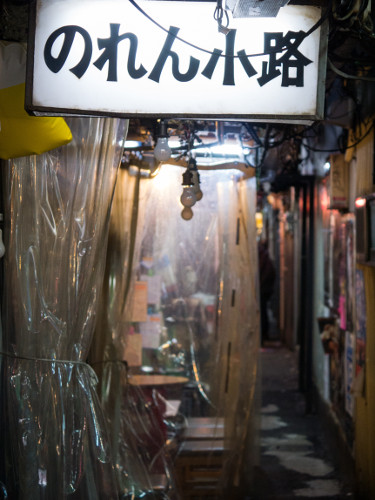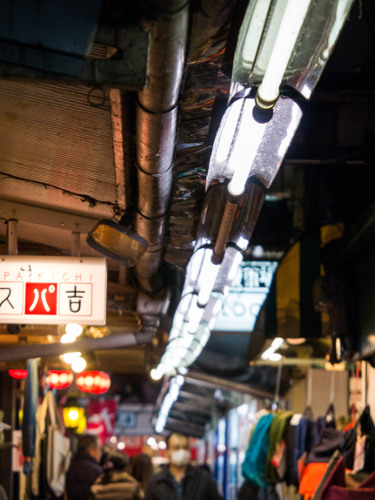 Harmonica Yokocho / 1-1-3 Kichijoji-Honcho, Musashino-shi, Tokyo

Drinking street in Nishi-Ogikubo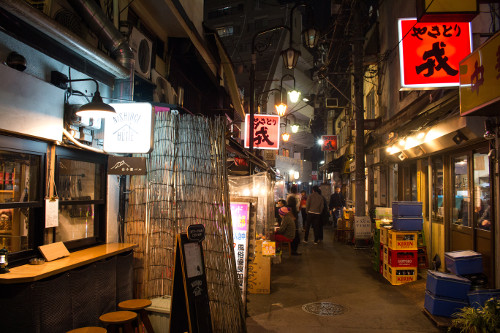 Many eateries are lined up in a narrow alley heading towards Kichijoji, a place just outside the south exit of Nishi-Ogikubo Station.
Yakitori restaurants symbolizing Nishi-Ogikubo made vigorous smoke, and fragrant smell of meat burned invites people.
In addition to yakitori there are many unique shops such as Thai food, Taiwanese cuisine, stand-up-eating sushi shop. As this area can be enjoyed at a relatively cheap price, it is always crowded.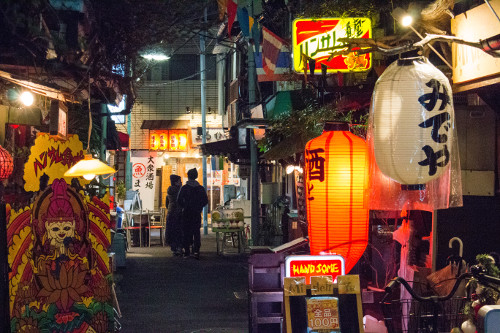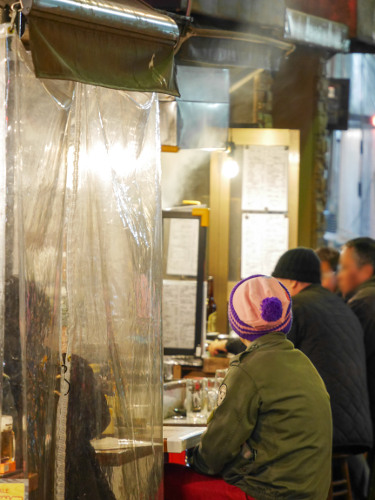 Drinking street in Nishi-Ogikubo / 3-11-5 Nishiogiminami, Suginami-ku, Tokyo

Sangenjaya Sankaku Chitai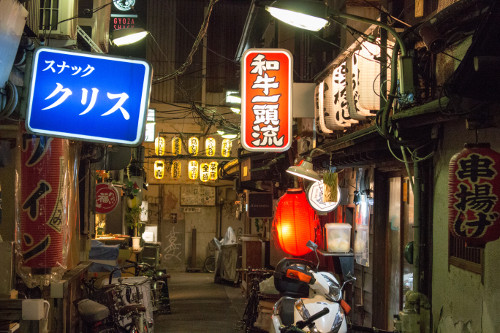 In the triangle area between Route 246 and Setagaya-dori Street, shops of booths came to line up after the war, and developed into shopping districts. Eateries, pubs and shops are closely standing along the maze-like alleys. Many people visit this triangle area not only for drinking but also for eateries known for delicious food.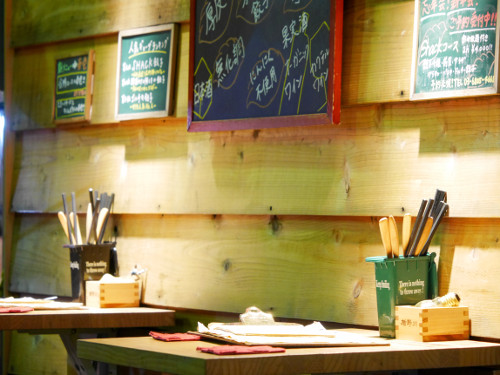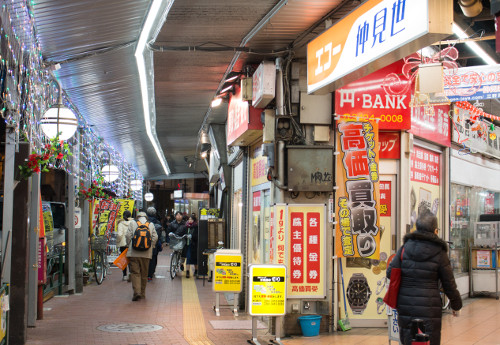 Sangenjaya Sankaku Chitai / 2 Sangenjaya, Setagaya-ku Tokyo

Kitasenju Nomiya Yokocho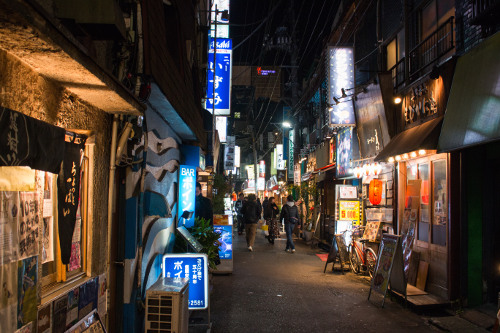 Near the west exit of Kita-Senju Station, there are narrow alleys with many bars and eateries, commonly known as "Nomiya Yokocho". While there are shops of old-fashioned "Kushiage" (deep fried skewered meat and vegetables) and "Nikomi" (stewed dishes) that leave the traces of Showa, there is a yakitori restaurant given one star by Michelin. This yokocho is attractive because there are many unique shops that you can choose according to situations.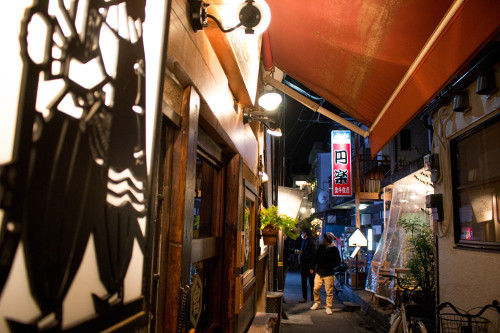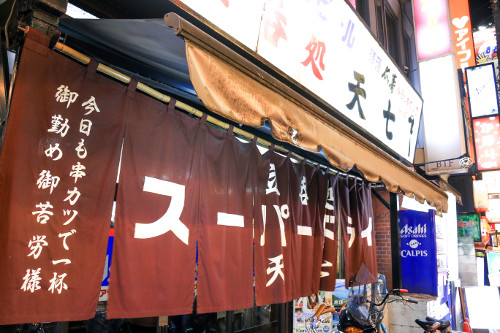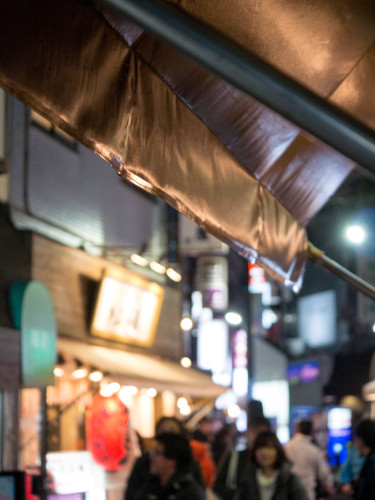 Kitasenju Nomiya Yokocho / 2-62 Senju, Adachi-ku, Tokyo

Akabane OK Yokocho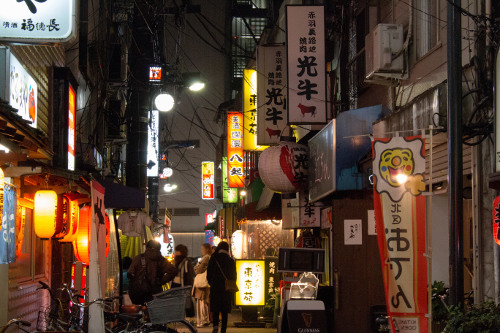 There is "OK Yokocho" where bars and eateries are lined up in the west side of Akabane Ichibangai shopping street, which is located near the east exit of Akabane Station. After the war, the street market developed into a shopping district, and it became an area where eateries gather.
About 30 shops are lined up in a short range alley of about 100 meters.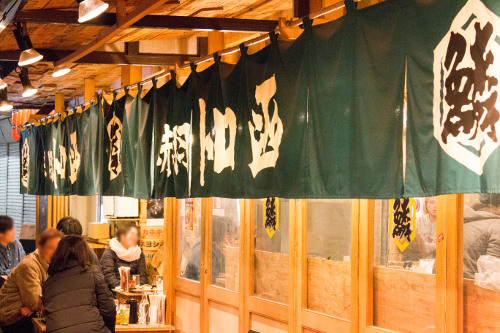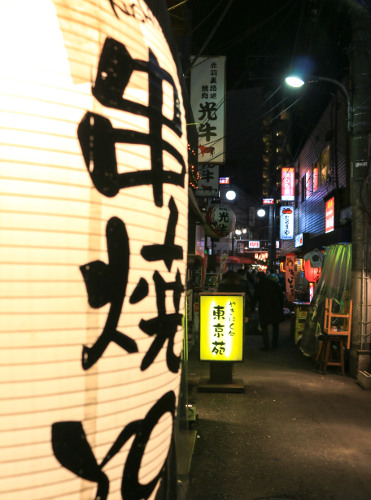 Akabane OK Yokocho / 1-17 Akabane, Kita-ku, Tokyo

"Yokocho boom" has continued even in 2017. Not only old-fashioned yokocho alleys but also recently emerging new style yokocho are gaining popularity.
Ebisu Yokocho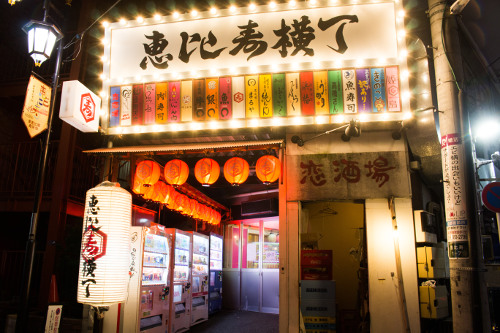 "Ebisu Yokocho" was born in 2008 after renovating the "Yamashita shopping centre" which was once a market. The floor and ceiling were left without being refurbished, the atmosphere of the Showa era drifts in the yokocho, and about 20 small eateries of 10 to 16.5 square meters are lined up to crowd together in a confined space. Seats that exceed the capacity inside the shop are also placed in the aisles and are crowded with many people. At Ebisu Yokocho often share a table with other group, and it is attracting attention as a meeting place, as it is easily accessible to the first-time people.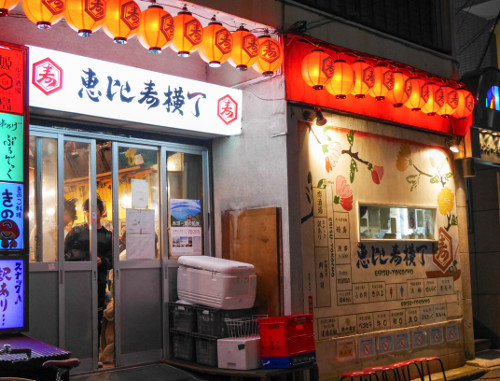 Ebisu Yokocho / 1-7-4 Ebisu, Shibuya-ku, Tokyo

Hobo Shinjuku Norengai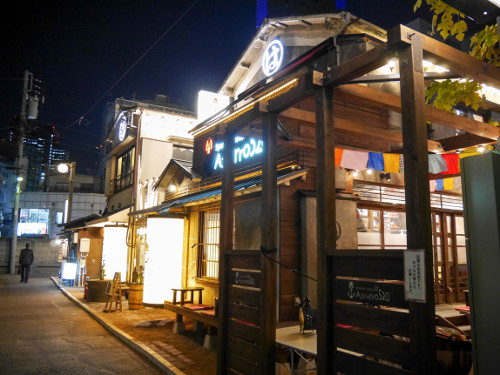 It is a newly born yokocho located 5 minutes on foot from Shinjuku station and 1 minute on foot from Yoyogi station. Although it is the name Hobo Shinjuku ("hobo" means "almost" in Japanese), access from Yoyogi Station is definitely convenient.
7 old houses were renovated and opened as a restaurant area in March 2017. It combines newness and nostalgia and features comfort that makes you want to stay long. Because there are 7 different types of eateries, you can enjoy it according to the situation.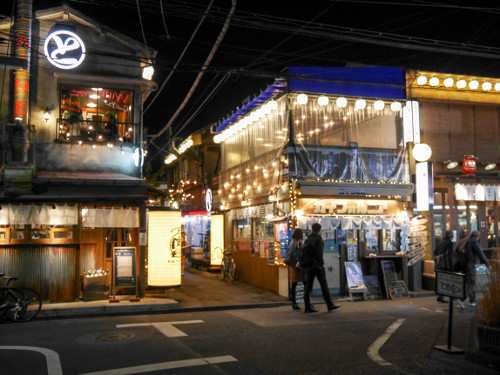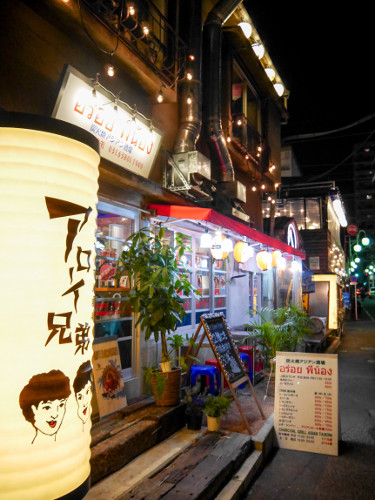 Hobo Shinjuku Norengai / 5-20-10 Sendagaya, Shibuya-ku, Tokyo