The 150th Anniversary of his Birth: Yokoyama Taikan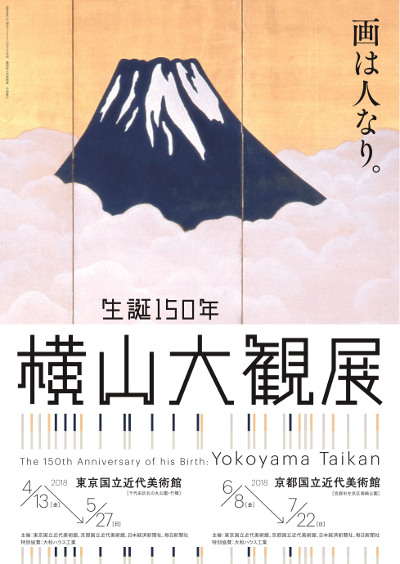 A great retrospective exhibition of precious masterpieces of Yokoyama Taikan
A great retrospective exhibition "The 150th Anniversary of his Birth: Yokoyama Taikan" will be held from April 13 to May 27, 2018.
Yokoyama Taikan (1868-1958) is a top artist of modern Japanese painting, known for having painted over 1,500 pictures of Mount Fuji and Metempsychosis, a more than forty-meter long sumi ink scroll. This is a major retrospective commemorating the 150th anniversary of his birth.
"A painting has to be painted persistently with your heart." "A painting reflects the painter himself." Such remarks may give the impression of a very serious-minded person, but Taikan also had a highly adventurous spirit and a playful mind. In his paintings, he exerted his ingenuity to surprise people and made unremitting efforts to pioneer pictorial representation.
So as to bring such an image of this artist to light, while paying due attention to Taikan's young days, presented in this exhibition is a choice selection of approximately ninety works. Not only are there must-see materpieces by Taikan but also newly discovered works, through which you will be able to uncover the charms of Taikan anew.
Details
Event Name
The 150th Anniversary of his Birth: Yokoyama Taikan
Venue
The National Museum of Modern Art, Tokyo (MOMAT) Special Exhibition Gallery
Dates
April 13, 2018 – May 27, 2018
Note
【Closed】 Mondays
*except April 30, 2018
Open Hours
10:00 – 17:00
*Fridays and Saturdays open until 20:00.
*Last admission is until 30 minutes before closing.
Admission
【Day ticket】
Adults : 1,500 yen
College / University students : 1,100 yen
High school students : 600 yen
【Advance ticket】
Adults : 1,300 yen
College / University students : 900 yen
High school students : 400 yen
*Junior High school age and under are free of charge.
*Persons with disability and one person accompanying them are admitted free of charge.
*Including the admission fee for MOMAT collection.
Address
3-1 Kitanomaru-koen, Chiyoda-ku, Tokyo