Megurogawa Minna no Illumination (Meguro River)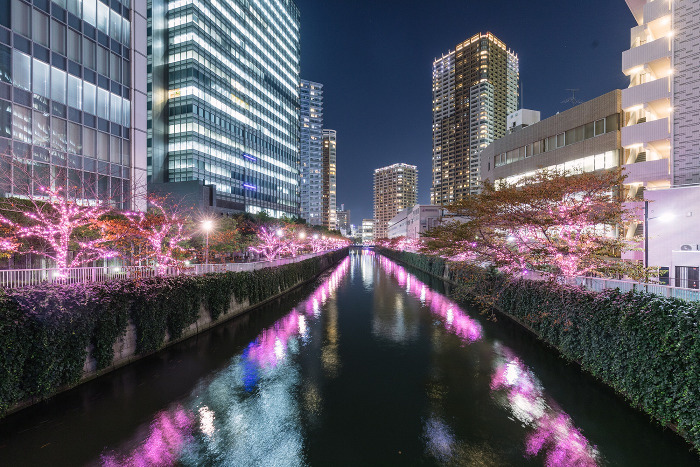 "Megurogawa Minna no Illumination" that makes winter cherry blossoms bloom along the Meguro River
Meguro River is a popular spot for Cherry blossom viewing representing Tokyo.
Along the Meguro River, "Megurogawa Minna no Illumination" that cherry blossoms bloom in winter by illumination will be held from November 9, 2018 until January 6, 2019.
"Megurogawa Minna no Illumination" is an environmentally friendly illumination event that uses 100% self-generated electricity using fuel recycled from waste edible oil collected from surrounding homes and restaurants.
About 400,000 cherry-colored LEDs are used, and the illumination is 1.1 kilometers on one side bank, the total distance on both banks is about 2.2 kilometers. Just like the spring cherry blossoms, cherry blossoms in winter are also reflected on the surface of the Meguro River, further increasing the sparkle.
As a spot for cherry blossom viewing in winter, "Garden Igloo" (outdoor domes) which were popular last year will appear again. The three outdoor domes are spacious enough to spend relaxing, so you can enjoy illumination in any weather.
Details
Event Name
Megurogawa Minna no Illumination (Meguro River)
Venue
Gotanda Fureai Waterside Square, Meguro river roadside
Dates
November 9, 2018 – January 6, 2019
Note
*The event will be held in case of rain. (except stormy weather)
*From 17:30 on November 9.
*The outdoor domes will be installed at Gotanda Fureai Waterside Square from November 22nd to December 26th, 2018. (planned)
Open Hours
17:00 – 22:00
Admission
Free
Address
2-9 Higashigotanda Shinagawa-ku, Tokyo