KAWAII KABUKI – Sanrio Puroland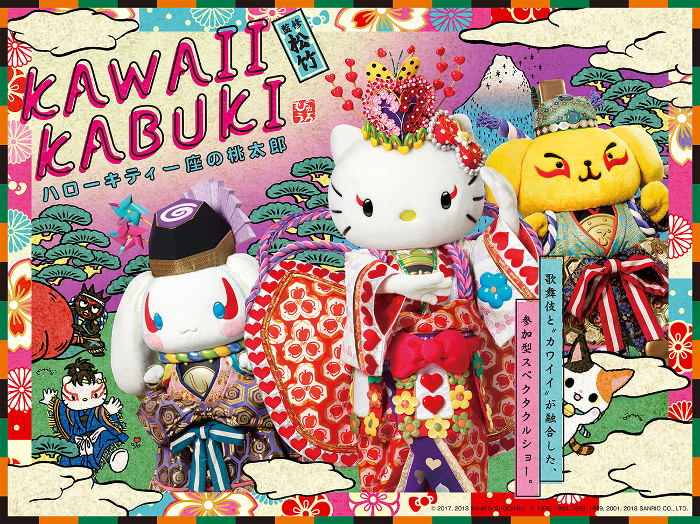 Hello Kitty Land Tokyo launches the first ever "cute" KABUKI Theater in March 2018
Sanrio Puroland (Hello Kitty Land Tokyo) will launch a new program of its Märchen Theater, a unique blend of traditional Japanese Kabuki Theater, the concepts of "Wa" (traditional Japanese culture) and "KAWAII" (Japanese "cute" culture). The new production, "KABUKI×Sanrio Puroland", has been created in collaboration with the leading kabuki promotor Shochiku and will premiere on 10th March, 2018 with the full-scale musical "KAWAII KABUKI – Momotarō by the Hello Kitty Troupe".


Sanrio Puroland has decided to join hands with Shochiku, a leading kabuki Theater promoter, to create an entirely new show aimed at a broader audience. It will bring together world-renowned kabuki theater and Japan's well-loved Sanrio characters such as Hello Kitty.
This new KAIWAII KABUKI performance is based on the popular Japanese folktale "Momotarō" ('The Peach Boy'). In this magical story Momotarō, a boy born from a peach, goes on a journey to destroy evil demons accompanied only by a dog, a monkey and a pheasant. As added feature the new show, the first of its kind, will include acrobatics performances coupled with a powerful video display.
Details
Event Name
KAWAII KABUKI – Momotarō by the Hello Kitty Troupe –
Venue
Sanrio Puroland (Hello Kitty Land Tokyo)
Dates
March 10, 2018 – End date undetermined
Open Hours
Please confirm business hours on the calendar.
Admission
Entrance Fee
[Weekday]
18 years and over / 3,300 yen
3-17 years / 2,500 yen
[Holiday]
18 years and over / 3,800 yen
3-17 years / 2,700 yen
*Kids under 2 enter for free.
*Please check the official website for details of charge.
Address
1-31 Ochiai Tama-shi, Tokyo
Contact
042-339-1111  (9:30-17:00 *Except Closed Days)