Shinjuku Golden Gai Summer Evening Festival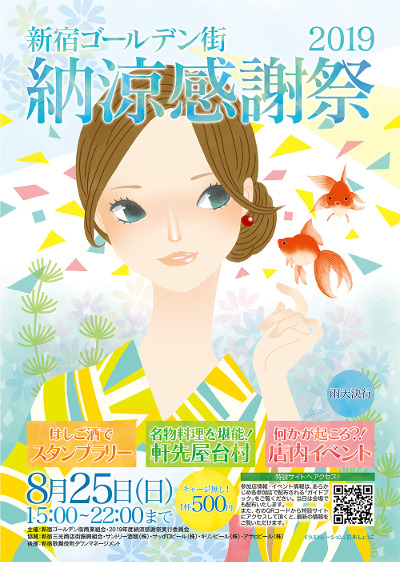 Drinks are 500 yen! Please be careful about drinking too much!
"Shinjuku Golden Gai Summer Evening Festival" will be held on August 25, 2019.
Shinjuku Golden Gai is a strange city where old-fashioned nostalgia and youthful energy coexist. Shinjuku Golden Gai has been changing flexibly according to the times, such as increasing number of young people and international tourists, while leaving unchanged atmosphere as it was the market at the time of postwar chaos.
"Summer Evening Festival" is an event where people who have not had a chance to go to Shinjuku Golden Gai quite easily can also stop by casually.
Drinks are 500 yen and there is no cover charge. There are service menus and original planning for each bar, so you may want to visit various bars.
About 180 participating bars are posting the Participation Sticker at the entrance. Please check before entering.
Details
Event Name
Shinjuku Golden Gai Summer Evening Festival
Venue
Shinjuku Golden Gai
Dates
August 25, 2019
Note
The event will be held in case of rain.
Open Hours
15:00 – 22:00
Admission
Admission Free
Pay for drink/food at venue.
Address
1 Chome Kabukicho, Shinjuku-ku, Tokyo