Furusato Matsuri Tokyo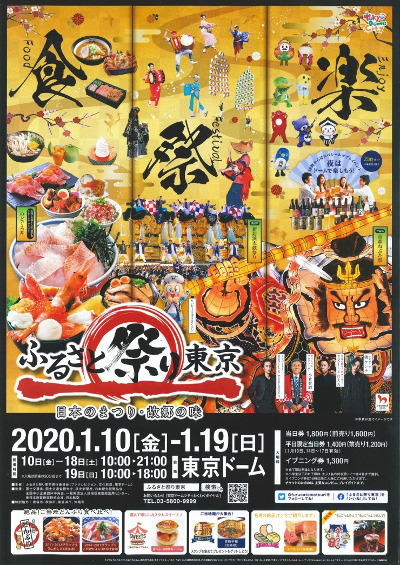 Traditional festivals and famous dishes gather to Tokyo Dome from all over Japan!
Furusato Matsuri Tokyo, a gathering of traditional festivals and local foods from all over Japan, will be held at Tokyo Dome for 10 days from January 10 to 19, 2020.
About 20 festivals will appear alternately during the event period, such as "Aomori Nebuta Festival", the best festival in Japan where more than 2.8 million tourists visit every year, and "Akita Kanto Festival", which freely handles kanto pole lantern of 50 kilograms.
In addition to the "Japan Local Donburi Championship" where a half-sized donburi (bowl of rice topped with various ingredients) can be tasted at 500 yen, "Local Gourmet Market" where more than 300 local foods such as seafood, Wagyu beef gather from all over the country will be held.
After 18:00, the venue will change to a "Night Festival", and you can taste more than 100 types of local sake and local beer along with various local foods. (Except last day)
At 19:30 on January 13, there will be an "Evangelion Festival" in collaboration with 'EVANGELION:3.0+1.0' to be released in June 2020. Yoko Takahashi will sing the Japanese drum arrangement version of "A Cruel Angel's Thesis" (the theme song of Neon Genesis Evangelion).
Details
Event Name
Furusato Matsuri Tokyo
Venue
Tokyo Dome
Dates
January 10, 2020 – January 19, 2020
Open Hours
10:00 – 21:00
*Until 18:00 on January 19.
*Last admission until 30 minutes before closing.
Admission
【Advance Ticket】
Admission Ticket 1,600 yen
Weekday Limited Admission Ticket 1,200 yen
【Day Ticket】
Admission Ticket 1,800 yen
Weekday Limited Admission Ticket 1,400 yen
—–
Unlimited-use Admission Ticket 4,500 yen *Limited 1,000 sheets, sale until January 9.
Evening Ticket 1,300 yen *Valid after 16:00.
*Up to 4 children age 12 or younger per adult are allowed to enter.
*Pay for food/drink and product sales at the venue.
Address
1-3-61 Koraku Bunkyo-ku, Tokyo