"Attack on SKYTREE®" (Collaboration with "Attack on Titan")
You can enjoy the original story animation, which The Survey Corps fight against the Titan, "Attack on SKYTREE®"
A 350 meter-class Titan hits the TOKYO SKYTREE®. How does The Survey Corps face the unprecedented size Titan !?
The TOKYO SKYTREE® will be Wall-SKYTREE, and a collaboration event will be held to enjoy the original story where The Survey Corps appearing in "Attack on Titan" fights the Titan.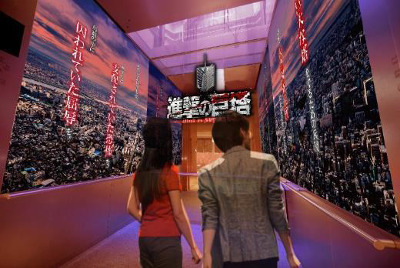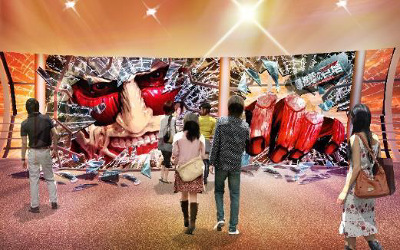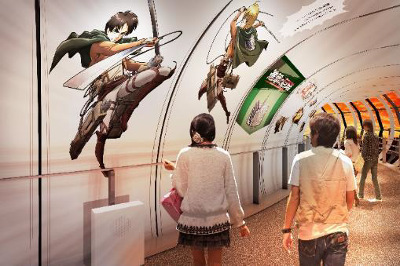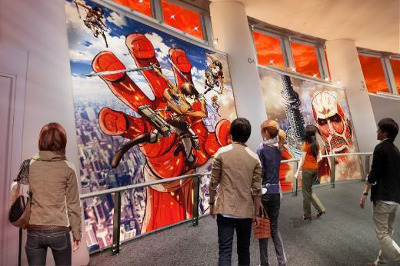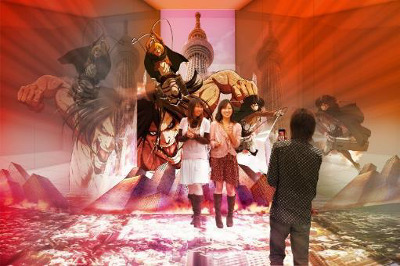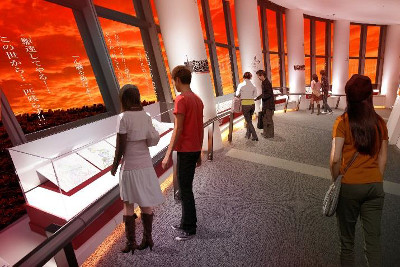 In the corridor leading to Floor 450, there are photo spots that can shoot with a 350 meter-sized Titan realistically reproduced, and reproduction original pictures of TV anime "Attack on Titan" Season 2 started broadcasting from April 2017 will be exhibited. Original collaborative goods will be sold at the special shop.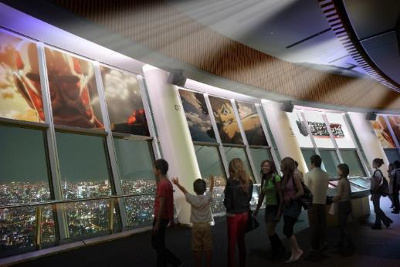 On the Floor 350 of the Tembo Deck, at the SKYTREE ROUND THEATER® that can project images on the window glass over 110 meters, the original story animation "Attack on SKYTREE®" screened only here can be shown.
Also, at SKYTREE CAFE on Floor 340 you can taste foods and drinks that express the world view of "Attack on SKYTREE®".
During the event period, when you gather all the stamps around the five points set up in the TOKYO SKYTREE TOWN®, the stamp rally will be held to receive the original "Attack on SKYTREE®" character stickers. The design of the sticker will be changed in the previous term and the latter term.
Details
Event Name
"Attack on SKYTREE®" (Collaboration with "Attack on Titan")
Venue
TOKYO SKYTREE TEMBO DECK (350meters), TOKYO SKYTREE TEMBO GALLERIA (450meters)
Dates
April 10, 2017 – July 14, 2017
Note
*The original story animation "Attack on SKYTREE®" will be screened about 3 times a day by 22:00 from sunset.
*The prize of the stamp rally will end when stock runs out.
【Stamp location】
①TEMBO GALLERIA (Floor 450)
②TEMBO DECK (Floor 350)
③TOKYO SKYTREE 5F (exit floor)
④TOKYO SKYTREE 1F (group floor)
⑤TOKYO SKYTREE Underground Third Floor (Oshiage Station connection floor)
【Place to receive prize】
TOKYO SKYTREE 1F THE SKYTREE SHOP
Open Hours
8:00 – 22:00
*Last admission is until 1 hour before closing.
Admission
Observatory admission fee required.
Address
1-1-2 Oshiage Sumida-ku, Tokyo
Contact
03-5302-3470