ARK Hills South Tower Rooftop Lounge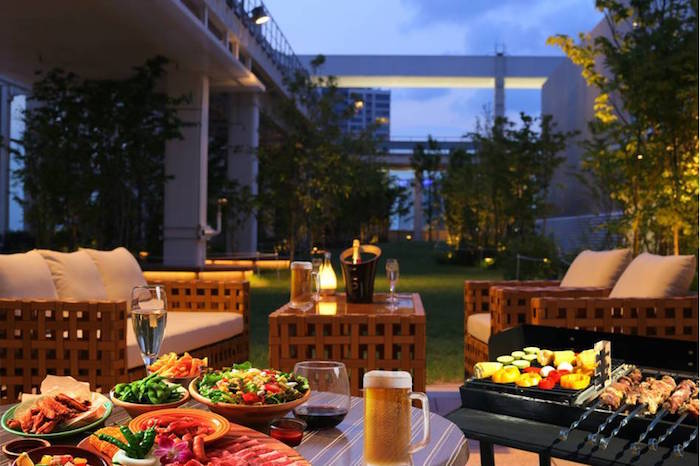 Beer garden that can enjoy barbecue opens in the rooftop garden of ARK Hills South Tower
A beer garden where you can enjoy barbecue easily will open for a limited period from April 22 to October 14, 2019 in "Sky Park", the rooftop garden of ARK Hills South Tower.
The open, lush rooftop garden offers relaxing sofa seating.
In addition to courses that can taste carefully selected meat and vegetables such as T-bone Steak, a course is also available for purchasing meat at the meat shops on the basement floor and bringing in.

There are three all-you-can-drink courses, such as the standard plan (2,000 yen) where you can enjoy wine buffet and draft beer, and the free flow plan (6,500 yen) where you can taste MOËT & CHANDON.
You can order only a la carte dishes and drinks without ordering a barbecue.
Details
Event Name
ARK Hills South Tower Rooftop Lounge
Venue
ARK Hills South Tower "Sky Park"
Dates
April 22, 2019 – October 14, 2019
Note
*In the case of bad weather, it may be canceled.
*Please take the "elevator directly to the Sky Park" located on the basement 1st floor of the ARK Hills South Tower.
Open Hours
【Weekday】
17:00 – 23:00
【Weekends and holidays】
<April – June>
Saturdays 12:00 – 23:00
Sundays and public holidays 12:00 – 22:00
<July – August>
Saturdays 15:00 – 23:00
Sundays and public holidays 15:00 – 22:00
<September – October>
Saturdays 12:00 – 23:00
Sundays and public holidays 12:00 – 22:00
Admission
Depends on order
Address
1-4-5 Roppongi Minato-ku, Tokyo
Contact
03-5549-1550