Taste of Tokyo 2019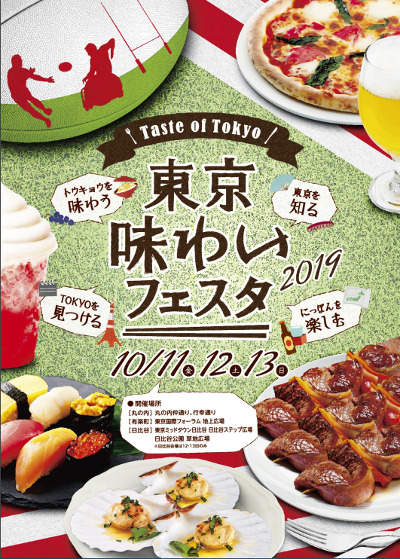 Touching the varied charm of Tokyo in three areas that set each theme
The cancellation of the event was announced.
"Taste of Tokyo 2019" will be held from October 11th to 13th, 2019.
"Taste of Tokyo" is an event that gathers seasonal ingredients and dishes from Tokyo as well as traditional crafts and culture that represent Tokyo.
You can enjoy dishes made by famous chefs and local restaurants using ingredients from Tokyo and shopping such as vegetables and fruits cultivated in Tokyo.
This event will be held in three areas with each theme. Although it is good to go to the venue that you want, you should be able to enjoy more by visiting all areas. Please enjoy "autumn" rich in delicious food.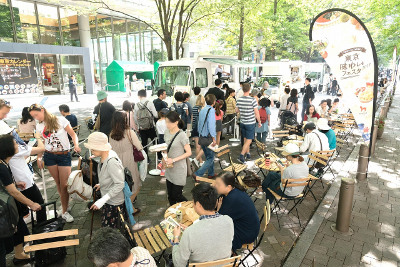 ■ Marunouchi Area (Marunouchi Naka-dori Street / Gyoko-dori Street) October 11-13
On Marunouchi Naka-dori Street, food trucks offer dishes made by famous chefs featuring Tokyo ingredients.
In the Marche on Gyoko-dori Street, there are a variety of ingredients from Tokyo. You can also enjoy demonstrations of traditional crafts.
■ Yurakucho Area (Tokyo International Forum) October 11-13
A collaboration with regions across Japan. Local sake, cuisine, sweets, and specialty items to be introduced and sold. Dishes that go well with alcoholic beverages are also offered.
■ Hibiya Area (Tokyo Midtown Hibiya, Hibiya Park) October 12-13
Famous restaurants offer a variety of cuisine using various ingredients from Tokyo. An outdoor movie screening and other events to be held. There are workshops where parents and children can participate, and you can enjoy other than meals at this venue.
Details
【Marunouchi Area】

【Yurakucho Area】

【Hibiya Area】


Event Name
Taste of Tokyo 2019
Venue
【Marunouchi Area】
Marunouchi Naka-dori Street / Gyoko-dori Street
【Yurakucho Area】
Tokyo International Forum "Plaza"
【Hibiya Area】
Tokyo Midtown Hibiya "Hibiya step open space"
Hibiya Park "Grass field"
Dates
October 11, 2019 – October 13, 2019
Note
*Hibiya Area will not be held on October 11.
*The event will be held in case of rain. It may be canceled in case of stormy weather.
Open Hours
【Marunouchi Area】
<Marunouchi Naka-dori Street> 11:00 – 17:00
<Gyoko-dori Street> 11:00 – 17:00
【Yurakucho Area】
<Tokyo International Forum "Plaza"> 11:00 – 20:00
【Hibiya Area】
<Tokyo Midtown Hibiya "Hibiya step open space"> 11:00 – 20:00
<Hibiya Park "Grass field"> 11:00 – 17:00
Admission
Admission Free
Pay for food/drink and products at venue.
Address
【Marunouchi Area】2 Chome Marunouchi Chiyoda-ku, Tokyo【Yurakucho Area】3-5-1 Marunouchi Chiyoda-ku, Tokyo【Hibiya Area】1-6 Hibiyakoen Chiyoda-ku, Tokyo