Special Exhibition of the Girl's Manga Magazine "Ribon"
Special exhibition focusing on works published around 1994 that recorded the highest circulation
The "Special Exhibition of the Girl's Manga Magazine Ribon" will be held from July 18 to July 28, 2019 at the Shinjuku Takashimaya 11th floor Exhibition Hall.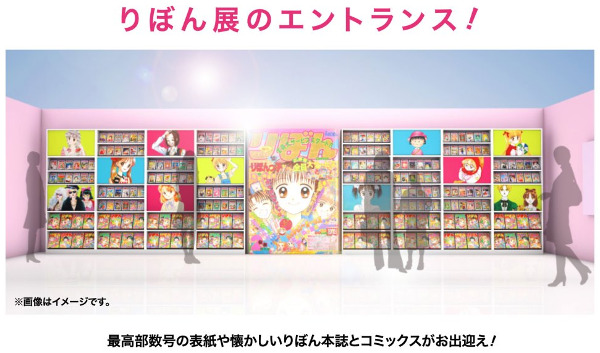 The Girl's Manga Magazine "Ribon" was first published in 1955 and has attracted many girls in each youth. This magazine recorded a maximum circulation of 2.55 million copies in 1993. This exhibition introduces popular manga artists, focusing on the works that were published around 1994, and approaches the worldview of each work.
At the venue, not only the original drawings from the series, but also the "Furoku" (supplements) will be displayed.
After 25 years, it is an exhibition for Ribon Fans who have grown into adult women.
【Artists and works scheduled to be displayed】*Might be changed
・Min Ayahana 'Akazukin Chacha'
・Koi Ikeno 'Tokimeki Tonight'
・Yukari Ichijo 'Yukan Club'
・Aamin Okada 'Lunatic Zatsugidan'
・Miho Kobana 'Kodomo No Omocha'
・Momoko Sakura 'Chibi Maruko-chan'
・Ayumi Shiina 'Baby Love', 'Anata to Scandal'
・Aoi Hiiragi 'Hoshi no Hitomi no Silhouette', 'Giniro no Harmony', 'Whisper of the Heart'
・Megumi Mizusawa 'Hime-chan's Ribbon'
・Ai Yazawa 'Tenshi Nanka Ja Nai', 'Gokinjo Monogatari'
・Wataru Yoshizumi 'Marmalade Boy', 'Handsome na Kanojo'
Details