Takashi Amano NATURE AQUARIUM Exhibition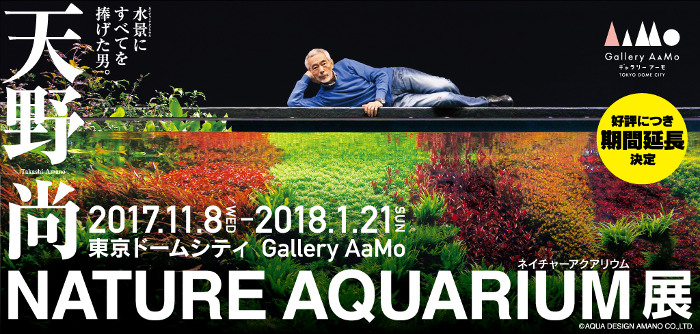 The world of Nature Aquarium created by Takashi Amano, known as "The Master of Aquascape"
Takashi Amano worldly known as "The Master of Aquascape" – This exhibition focuses on a series of his aquariums where he recreated natural ecosystems ("Nature Aquarium") and Amano's professional, large scales photographs. Combining his unique view of nature and aquariums, this exhibition is, in other words, a "living art exhibition".

In this event, 11 Nature Aquarium tanks, including a newly created special aquarium "Extensive Nature Aquatic Plants Wall", will go on display. In addition, the exhibition will showcase Amano's ecological photographs captured by large format cameras, such as the extra-large size photographic print of Primitive Japanese cedar trees in Sado, Japan which was introduced in the G8 Hokkaido Toyako Summit held in July 2008, and the maximum of 8-meter-wide photographs.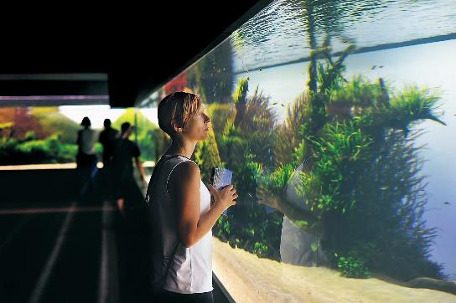 It also reproduces a 40-meter-long Nature Aquarium "Florestas Submersas" in Oceanário de Lisboa, Portugal through film. The photographs of the winning works in the International Aquatic Plants Layout Contest will be exhibited for the first time , and workshop and live talk show will take place.
Amano enthusiasts or anyone looking for "beauty and stunning experience" can enjoy this new kind of exhibition.
Details
Event Name
Takashi Amano NATURE AQUARIUM Exhibition
Venue
Tokyo Dome City Gallery AaMo
Dates
November 8, 2017 – January 21, 2018
Open Hours
12:00-17:00 on weekdays,
10:00-17:00 on Saturdays, Sundays and holidays.
【Open hours around New Year】
December 30 – January 1, 12:00-17:00
January 2 – 3, 10:00-17:00
*Last admission is until 30 minutes before closing.
Admission
General 1,300 yen
Students (High School and above) 1,100 yen
Students (Junior High School and under) 800 yen
Toddlers: free
Address
1-3-61 Koraku Bunkyo-ku, Tokyo
Contact
03-5800-9999