Exhibition of Shinkai Makoto – From "Voices of a Distant Star" to "Your Name."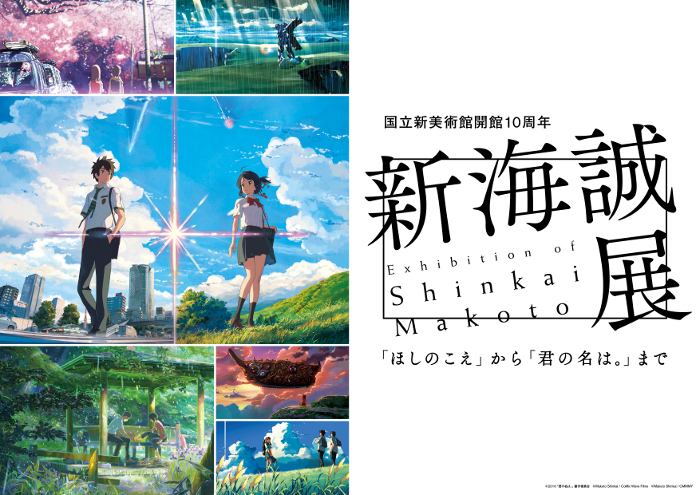 An exhibition approaching the charm of Shinkai's artworks attracting many people without regard to age or nationality
The "Exhibition of Shinkai Makoto", covering his artworks from "Voices of a Distant Star" (Hoshi no Koe) to "Your Name." (Kimi no Na wa.) will be held in The National Art Center, Tokyo from November 11 – December 18, 2017.
Makoto Shinkai debuted commercially with his short-film, "Voices of a Distant Star" in 2002. For 15 years since then, he has created the most refined "stories of a man and a woman who cross their paths in a beautiful and magnificent world", and has received many people's attention without regard to age or nationality.
This exhibition will introduce Shinkai's journey by showing not only his precious production materials such as storyboards, plannings, drawings, arts, and visual images, but also objects that enable visitors to experience Shinkai's world.
This exhibition approaches the charm of Shinkai's animations thoroughly with these lined-up works : "Voices of a Distant Star" — self-production; "The place promised in our early days" — the first full-length work produced with professional staff and awarded at Mainichi Film Concours; "5 Centimeters Per Second" — which people are talking about enthusiastically even now; "Children Who Chase Lost Voices" — a true young adult fantasy work; "The Garden of Words" — visual literature of the digital era; "Your Name." — which won record-breaking success right after being released last year.
Details
Event Name
Exhibition of Shinkai Makoto
Venue
Special Exhibition Gallery 2E, The National Art Center, Tokyo
Dates
November 11, 2017 – December 18, 2017
Note
【Closed】 Tuesdays
Open Hours
10:00 – 18:00
Fridays & Saturdays 10:00 – 20:00
*Last admission is until 30 minutes before closing.
Admission
【Day ticket】
Adults 1,600 yen
College students 1,200 yen
High school students 800 yen
【Advance ticket】
Adults 1,400 yen
College students 1,000 yen
High school students 600 yen
*Visitors who are under junior high school students and disabled people (along with the one assistant) will be admitted for free upon presenting the Disabled Person's Booklet or an equivalent form of government-issued ID.
*Free entrance to the exhibition for high school students from November 17 (Fri.) to November 19 (Sun.) , 2017 upon presenting students ID.
Address
7-22-2 Roppongi Minato-ku, Tokyo