Impressionist Masterpieces from the E.G. Buehrle Collection, Zurich (Switzerland)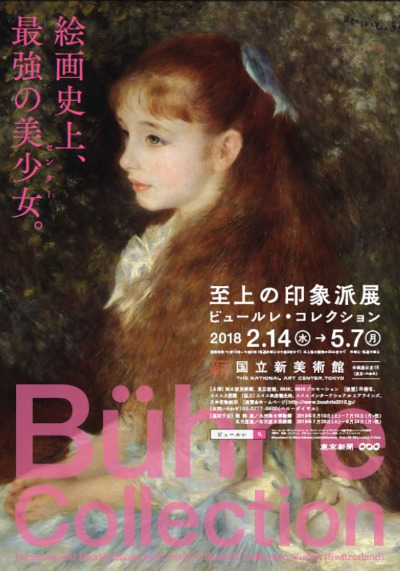 It is a valuable opportunity to experience one of the world's great collections of Impressionist painting
"Impressionist Masterpieces from the E.G. Buehrle Collection, Zurich (Switzerland)" will be held at the National Art Center, Tokyo from February 14th to May 7th, 2018.
Emil Georg Bührle (1890-1956) was a successful Swiss businessman known for being an art lover with a lifelong passion for collecting art. Today the Bührle collection is known by art aficionados for its works ranging mainly from 16th century Dutch paintings to those by the great artists of the 20th century, with a particularly superb assembly of works by the Impressionists and Post-Impressionists. The collection will soon be transferred to the Kunsthaus Zürich. This exhibition is being held in Japan upon this final opportunity to present the entire image of the collection prior to the transfer. This exhibition presents a selection of around 60 works focusing on modern masterpieces, with the majority never before displayed in Japan.
It is a valuable opportunity to experience one of the world's great collections of Impressionist painting.
Details
Event Name
Impressionist Masterpieces from the E.G. Buehrle Collection, Zurich (Switzerland)
Venue
The National Art Center, Tokyo (Special Exhibition Gallery 1E)
Dates
February 14, 2018 – May 7, 2018
Note
【closed】 Tuesdays (Except May 1)
Open Hours
10:00 – 18:00
*10:00 – 20:00 on Fridays, Saturdays and April 28 – May 6.
*Last admission 30 minutes before closing.
Admission
【Advance ticket】
Adults 1,400 yen
College students 1,000 yen
High school students 600 yen
【Day ticket】
Adults 1,600 yen
College students 1,200 yen
High school students 800 yen
*Visitors who are under junior high school students will be admitted for free.
*Disabled persons (along with the one assistant) will be admitted for free upon presenting the Disabled Person's Booklet or an equipment form of government issued ID.
Address
7-22-2 Roppongi, Minato-ku, Tokyo
Contact
03-5777-8600