Exhibition "Banksy: Genius or Vandal?"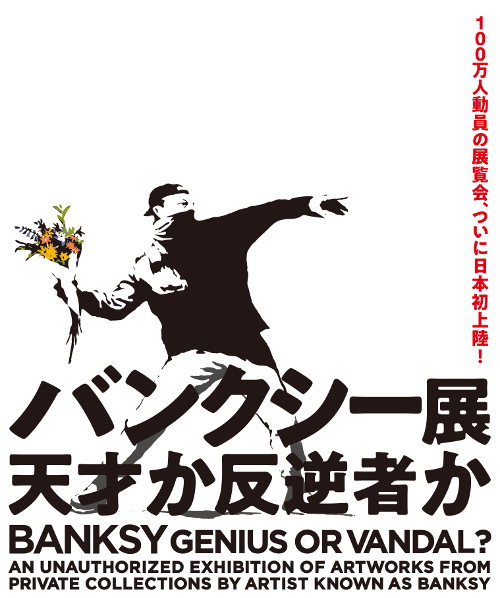 The provocative and shocking works of World-Renowned Artist Banksy are coming to Japan for the first time
The Exhibition "Banksy: Genius or Vandal?" will be held at ASOBUILD in Yokohama from March 15 to October 4, 2020.
An anonymous artist based in the UK, Banksy's works appear in unexpected places around the world such as streets, walls and bridges. Perceived by the art world as an artist who produces critical street art aimed at social issues, Banksy is also active in a wide range of areas such as theme parks, accommodation facilities and film production. Unique graffiti using stencils is a typical example of Banksy's activities and the accompanying epigrams are satirical and full of dark humor. This style was developed on the underground scene in Bristol, a port city in the west of England where one can find lively collaboration between artists and musicians.
Since 2018, five cities—Moscow, St. Petersburg, Madrid, Lisbon, and Hong Kong—have hosted this exhibition, which has attracted an enthusiastic audience of more than one million people. Experiencing the works of Banksy gives you a sense of the depth of his talent as an artist. This show offers for the first time retrospectives of Banksy's solo exhibitions, events held at Dismaland and the Bristol Museum of Art, and collaborations with artists and musicians. By taking on Banksy's view of the world, each visitor can ponder his identity: Is he an artist or a businessman, an avenger or a vandal, a genius or just a rebel? Come see and decide for yourself.
Details
Event Name
Exhibition "Banksy: Genius or Vandal?"
Venue
ASOBUILD (Direct access to Yokohama Station)
Dates
March 15, 2020 – October 4, 2020
Open Hours
<Weekday> 9:00 – 20:30
<Holiday> 8:00 – 20:30
*Last admission until 20:00.
*The last day, October 4th (Sunday), 8:00-14:30 (Last entry 13:30).
Admission
<Timed Entry Ticket_Weekday>
Adults 1,800 yen
University / High School students 1,600 yen
Junior high / Elementary school students 1,200 yen
<Timed Entry Ticket_Weekends, Holidays>
Adults 2,000 yen
University / High School students 1,800 yen
Junior high / Elementary school students 1,400 yen
*Admission free for children under 5years old.
Please check the official website for other ticket information.
Address
2-14-9 Takashima, Nishi-ku, Yokohama-shi, Kanagawa